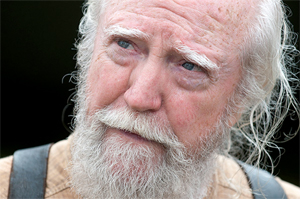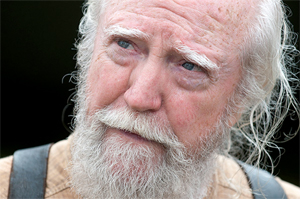 It was the final episode of the fall and the final show for some key characters—probably one of the most emotional episodes in the series. But the most difficult part of this episode (SPOILER ALERT) undeniably was losing Hershel.
When we first were introduced to Hershel long ago on his farm, I didn't know what to think. He was reluctant to take Rick's group in and he often objected to some of the groups' methods of survival. But as we grew closer to Hershel and Hershel grew closer to the group, we saw his heart for others. Any hesitation or reluctance Hershel had towards Rick flowed from his compassion for humanity. Hershel struggled with killing to survive. Hershel made every effort to preserve life.
Hershel modeled this with his own self-sacrifice. A few weeks ago in Episode 3, Hershel made his epic speech:
You step outside, you risk your life. You take a drink of water; you risk your life. And now days you breathe and you risk your life. Every moment now, you don't have a choice. The only thing you can choose is what you're risking it for.
…then he walked into the sick cellblock with no regard for his own life, only the mission of selflessly helping others.
Then, of all people, Hershel was one of the two captured by The Governor. Hershel's innocence cast against the dark shadow of The Governor's presence opened our eyes to the pure evil The Governor was capable of. The tyrant's true evil was unveiled this week as he struck down Hershel, beheading him in an odious declaration of war.
But this dark moment was preceded by a sparkle of light. In the moments before all hell broke loose, a subtle smile emerged from behind the grey beard of the father figure we all grew to love, a smile that sprouted at the most unlikely time… seconds before his death.
Hershel had made every effort to make peace with the Governor. No surprise. That's what Hershel does. But then Rick made a similar effort, selflessly offering to share the prison with these brutal raiders. When Rick proposed this treaty, Hershel witnessed the leadership he'd been hoping and praying for in Rick. As dire as the situation was, he knew that Rick possessed something The Governor could never take away from Rick: character.
It was surprising that no one in The Governor's new group of brainwashed recruits had the guts to see the truth of the situation. Rick gave them a chance:
Rick: You. You in the ponytail. Is this what you want? (looking to the rest of the group) Is this what any of you want?
Mitch: What we want is what you got. Period. Time for you to leave a**hole!
Rick: Look, I've fought him before (pointing to The Governor). And after, we took in his old friends. They've become leaders in what we have here. Now you put down your weapons, walk through those gates… you're one of us.
(The Governor's group looks at each other, all looking as if waiting for someone to take a stand. No one does. The Governor doesn't budge.)
Rick: We let go of all of it and nobody dies. Everyone's alive right now. Everyone's made it this far. We've all done the worst kind of things just to stay alive. But we can still come back. We're not too far gone.
(Hershel cracks a subtle smile.)
Rick: (continuing) We get to come back. I know we all can change.
(Hershel smiles one last time. The governor kills him.)
SEASON 4, EPISODE 8 DISCUSSION QUESTIONS:
1. Which The Walking Dead character do you miss the most, of those who have died. Why?
2. What did you like about Hershel?
3. What was Hershel trying to convince the Governor?
4. How come the Governor's people were fooled into battling Rick's group of survivors?
5. Should they have recognized the truth? At what point?
6. What did Mitch answer Rick when he asked what they wanted?
7. If you were standing with The Governor, at what point would you have recognized that you were standing for something wrong?
8. How can we know what is right and what God wants us to do in tough situations?
Read the following passage:
And so, dear brothers and sisters, I plead with you to give your bodies to God because of all he has done for you. Let them be a living and holy sacrifice—the kind he will find acceptable. This is truly the way to worship him. 2 Don't copy the behavior and customs of this world, but let God transform you into a new person by changing the way you think. Then you will learn to know God's will for you, which is good and pleasing and perfect. (Romans 12:1,2)
9. This passage gives us plenty to think about, being molded by God, not by the world. What happens when we allow God to slowly mold us and transform our thinking? (hint: it's the last sentence in the passage)
10. How can we let God transform the way we think—what does this really look like?
11. How had Rick's thinking changed over these four seasons?
12. What is something you can do this week to live a life of sacrifice to God, allowing him to mold you and change the way you think?